Robert Stanek's books are starting to capture the hearts and imaginations of people around the world. Just about everyone seems to like the refreshingly unique fantastic adventures and the breathtaking world of Ruin Mist.

The Kingdoms & The Elves Of The Reaches
Perfect for the young and the young at heart! Inside, you'll discover the breathtaking world of Ruin Mist where the mystical and the magical abound, and you'll fall in love with three heroes: a boy who would become a mage, a princess who is fleeing a dying kingdom, and a warrior elf who undertakes an epic journey. The adventure begins with Book 1.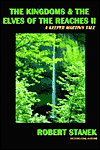 The Kingdoms & The Elves Of The Reaches II
To save her kingdom Queen Mother sent her most trusted warriors on a perilous journey across the Great Sea. But the elves were betrayed. Only a handful survived, and only two reached the far shores. The survivors did not find quick allies. They found a kingdom under siege and a shattered alliance.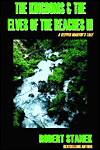 The Kingdoms & The Elves Of The Reaches III

Adrina, Emel, Vilmos, Galan and Seth face even greater challenges as their world is transformed. Vilmos, in his quest to become the first human magus in a thousand years, must control the darkness within him. Adrina must accept her place and work together with Emel to help the elves make their plea to Great Kingdom's council.
Learn more about Reagent Press
Reagent Press books have been featured in a variety of articles, in ads, at book fairs, and in the news. In Publisher's Weekly you may have seen our books in Children's Flying Starts (Dec. 2002), Bestsellers 2002 (Jan. 2003), Spring Adult Announcements (Jan. 2003) or Fast-Growing Small Publishers (Mar. 2003). In 2002-03, we had books nominated for Best Young Adult Books and prestigious Publishers Association awards. Learn more.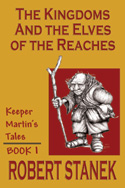 #1 Fiction Bestseller
Top 50 All Time Bestseller
New deluxe edition for 2005
Same Price with deluxe maps and illustrations

Don't miss this word of mouth sensation Now Available in English, Spanish, Turkish, Audio, Deluxe, Trade, Hardcover, Library. More editions coming soon including Special Illustrated, Russian, Bulgarian, Korean, Vietnamese...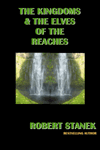 First time in hardcover! Get the special release editions of Kingdoms and Elves of the Reaches books while available. Beautifully bound with attention to fine detail makes these editions perfect as gifts. More…
Opportunities with RP Books: Are you a freelance writer, artist, proofreader, or game developer looking for additional opportunities? Check out these great opportunities with RP Books...
Reagent Press welcomes two new authors: Jay Giles and Tom Schwartz. Jay's book is a classy mystery that will have you glued to the page, and Tom's is a classic children's book already generating strong interest with international publishers.

An RP Books First: In a first ever for Reagent Press, we have secured the rights to Wizards of Skyhall: The Game and Wizards of Skyhall: The Series—the amazing debut of the soon-to-be bestselling author J. R. King. J. R. King is a young author with a bright future.
Also available... The Taster by Jonathan Hickman